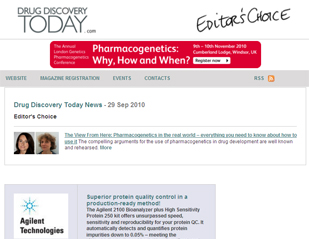 Drug Discovery Today E-Choice
Editor's Choice E-Newsletter
Drug Discovery Today Editor's Choice E-Newsletter delivers highly current reviews to 36,274* readers worldwide every month, addressing the rapid scientific developments in drug discovery. Each issue has a specific theme, keeping our readers fully abreast of the latest trends and developments in drug discovery.
The Editor's Choice newsletter includes the following sections:
Key Research Articles
Downloads / Whitepapers
Upcoming Events
E-Choice Sponsorship
This is an ideal way to promote a new product or service to drug discovery professionals worldwide. Work with us to reach your target audience by sponsoring a specific theme. We will also work with you to develop an article describing your product, technology or application for our 'The View from Here' section and offer sponsored access for up to 3 articles, a powerful way to get your message across to the drug discovery community.
2013 Editor's Choice topics **
| | |
| --- | --- |
| Date | Topic |
| January | ADME |
| February | Business Strategy |
| March | Stem Cells |
| April | Repurposed drugs |
| May | Antibodies |
| June | HTS |
| July | Drug Design |
| August | Epigenetics |
| September | Oncology |
| October | Medicinal Chemistry |
| November | Animal Models |
| December | Biotherapeutics |
* October 2012 figures. Publishers own data

* * We do our utmost to make sure that we cover these topics. However, topics can change, so if you are looking to target a specific theme, please contact your sales representative to check out E-Choice schedule
Specifications
For a consultation on how we can work with you to sponsor or develop a specific E-Choice topic, please contact your local sales representative

Back to top